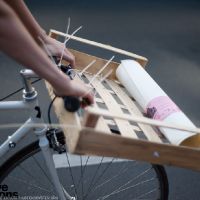 how did i not know about this little gem?
I inadvertently found this collective via a blog of
jordan sieler
who has written a fantastic little article about community for the papergirl magazine based in berlin.
papergirl
has got everything i love in it:
- girls on bikes
- people making art
- giving things out for free
and it all gels together when the girls (and boys) on their bikes give the home made art out for free to people on the streets of the city. genius.
its so simple it rings of choosewhatyouread, another fantastic community project slowy seeping into the bus terminals and train stations of cities around the world...

i cant wait to see if my 2011 london times will bring me some art and bikes and giving of things.
photo from
just.ekosystem.org